2022 was another year of expanding Impact Fire's presence across the United States and making thoughtful efforts to provide insightful content to customers by launching the Impact Fire Insights Newsletter. While Impact Fire has a national presence with its many district offices, we're rooted in our local markets, providing customers with the benefits of scale, customer service, and accountability of a local business. Operating in 14+ states, with 30+ district offices and 700+ self-perform technicians, we have the expertise and resources to be your one-stop shop for all your fire and life safety needs.
Expanding Nationwide
At the end of 2021, Impact Fire acquired Blackstone Fire Control in North Carolina and began its expansion into the Southwest with its first-ever district office in this region. Continuing in their strategic growth trajectory initiative, they acquired FESS Fire Protection, which allowed Impact Fire to establish a robust presence in the Southeast, servicing North and South Carolina, Virginia, Georgia, Tennessee, Alabama, and Florida across seven district offices. To close out 2021, Impact Fire established its second Connecticut district office through the acquisition of TEC Control Systems, making it the eighth district office in the northeast since its first acquisition in the region in 2018.
Not only has Impact Fire prioritized expanding our service offering in our existing markets, but Impact Fire is also focused on the future and providing leading fire protection services in new geographies. With the support of TruArc Partners, a NY-based investment firm focused on the middle market. We announced a series of successful acquisitions at Impact Fire and its sister company, Academy Fire. Through this partnership, Impact Fire continues joining forces with so many great companies and fire protection leaders in our industry to expand capabilities and geographic presence.
More Acquisitions & New Office Locations in 2022
In 2022, Impact Fire partnered with several other companies with the following objectives:
In addition to the acquisitions above, Impact Fire established two locations by leveraging its strong regional partnerships to provide comprehensive and best-in-class fire protection and life safety services in Phoenix, AZ, and Greenville, SC.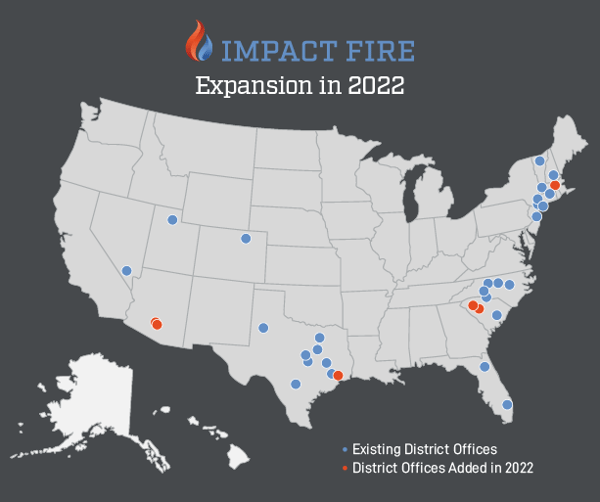 Thought Leadership & Connection with Customer Base
For years now, Impact Fire has been providing customers and prospects with premium content and resources from its blog and guide library via our website so that anyone can have the information they need to maintain compliance and protect employees, customers and property.

Although our website has over 35K+ monthly viewers, Impact Fire wanted to take this space of conversation to the next level by providing its monthly newsletter, Impact Fire Insights, which provides:
Strategies to prepare you and your organization in the event of an emergency
Checklists so you are ready on the day of a service inspection
Code compliance updates
Content and resources from our blog and guide library
Impact Fire-related news and service offerings
Company Culture at Impact Fire
At Impact Fire, we value the safety of our employees. As of last year, we have had no lost time injuries across the company. Aside from keeping our employees safe on the job, our Safety & Risk team has supported current employees through organized workshops and seminars on mental health, creating psychological safety in the workplace, and suicide prevention.

In the new year, we plan to continue to support our employees in the field and at home and look forward to new employees becoming a part of our Impact Fire Family. To learn more about Careers, visit our Careers page and get in touch with Ember, our job assistant, in chat.
Looking Forward to 2023
Impact Fire continues to expand nationwide with several acquisitions in process. We are excited to form solid regional relationships through our acquisitions and current partnerships and continue to build our connection to our customer base with content. If you're interested in partnering with us, please contact us here.